# 81 in our Waikiki map.

Hotel Name: .... Park Shore Hotel.
Category:.........

. (warning about star ratings!)
Address: ......... 2586 Kalakaua Ave.
General description:
What we like about this hotel:
What you may not like about this hotel:
RENOVATION ALERT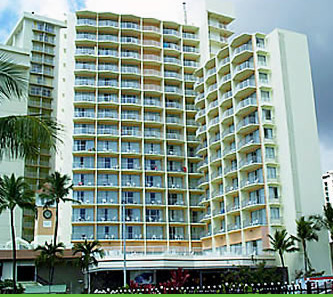 Please call Discount Hotels Hawaii at (808) 946-1216
for the best deal for a Waikiki Hotel of similar quality.
General description:............................(Back to top)
The park Shore Hotel was originally built in 1968, it is 14 floors high and has over 220 rooms in it's inventory, located at the very end of Waikiki, this "T" shaped building sits on the corner of Kalakaua and Kapahulu, across the street from the Honolulu Zoo.
The common areas are adequate in size with a ground level lobby with a front desk and a 3rd floor swimming pool with a large sun deck. It has food facilities within the property but is also walking distance to several restaurants and bars in the same area.
There is renovation work being performed that should bring this property to a 3 star category level. he scheduled work should be finished by the summer of 2013.
This hotel is number "81" within the yellow zone of our Waikiki map, click here to see it's location in relation to other hotels in Waikiki.

What we like about this hotel:............................(Back to top)
There are only 7 hotels on Kalakaua, across the street from the beach and this hotel sits on the best lot, fronting both Kalakaua and one of the largest parks in Honolulu.
This property is close to the Kapiolani Park, the Honolulu Zoo and the Waikiki "Shell" and still walking distance to the International Market Place and what is considered the center of Waikiki. There is a percentage of people that seek this side of Waikiki and the proximity to the Kapiolani park because is regarded as less noisy (there is no such a thing as a "quiet" hotel in Waikiki) and they like the open spaces that the park, the Waikiki Shell and the Honolulu Zoo offer.
All ocean view and ocean front rooms have been refreshed in 2009 with flat screen TV's, new carpets, bed covers and curtains.
The ocean views from this hotel are completely unobstructed, specially if you stay in one of the ocean front view rooms.
This hotel has one of the few pools and sun decks that have sun from the morning and into the middle of the afternoon.
What you may not like about this hotel:............................(Back to top)
This hotel had been planning a renovation for a few years now but because of the downturn of the economy they had decided to postpone the "large" renovation and went ahead to refresh all Ocean View and Ocean Front units with flat screen TV's, new carpets, bed covers and curtains to improve the product however the final renovation started on August 6th. 2012.
Standard rooms have in fact no view but for most budget conscious visitors is more than enough. If you prefer to have a view of the ocean and you do not mind paying extra for it, book either the Ocean Views or Ocean Fronts categories. Just remember that the Standard rooms have not been "refreshed" so they do not look as nice as the others.
This hotel has a few of what they call Partial Ocean Views, our advise to you is to go either Standard (no view) and save the money or go ocean view/ocean front view. Partial Ocean View rooms also were built in such a way that they have a balcony from another room looking right into yours.
For some, the distance to the International Market Place is too much even though is only 12 minutes away walking.
Like most hotels in Waikiki, parking is charged extra even for hotel guests, if you decide to stay in this hotel you may want to reconsider renting a car since parking is expensive and very limited, the bright side of this is that the hotel provides valet parking included in the parking fee.
Based on your particular needs and the objective of your trip, this hotel may have other pros and cons that you should consider, call us at (808) 946-1216 or (808) 394-2112 for more information.

060312
IMPORTANT NOTE:............................(Back to top)
Please keep in mind that ALL Hotels have shortcomings, the trick is to find a hotel which shortcomings you do not mind.
This hotel may or may not be the best option for it's category considering your particular situation and the days that you plan to visit our islands.
Call (808) 946-1216 to talk to one of our agents and he or she will be able to find for you the best option based on your needs.