# 68 in our Waikiki map.

Hotel Name: .... Alohilani Resort Hotel.
Category:.........

. (warning about star ratings!)
Address: ......... 2490 Kalakaua Ave.
General description:
What we like about this hotel:
What you may not like about this hotel:
RESORT FEE ALERT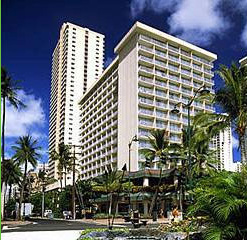 Please call Discount Hotels Hawaii at (808) 394-2112
for the best deal for a Waikiki Hotel of similar quality.
General description:............................(Back to top)
The Alohilani Resort Hotel was originally built in 1969 and originally operated under the name Pacific Beach Hotel until 2017 that re-opened after extensive renovations. It has 2 different buildings, the front or Beach Tower and the back or Oceanarium Tower. The total number of units is a little over 800. It has ample common areas with several restaurants, bars and shops, a Port Cochere with optional valet parking and an adequate pool area.
Parking is in the same property, it is covered and it is also very expensive, a common occurrence in Waikiki.
The main entrance is located on Liliuokalani Avenue but it has also access from Kalakaua Avenue and guests only need to cross the street to go to the beach.
This hotel is number "68" within the blue zone of our waikiki map, click here to see it's location in relation to other hotels in Waikiki.
What we like about this hotel:............................(Back to top)
The hotel covers a complete City block and the location in the blue area of our map and just across the street from the beach is very convenient.
This hotel is the home of the famous Oceanarium Restaurant that has one of the best Buffets in Waikiki as well as a huge 2 stories high fish tank with rays, sharks and a variety of tropical fish that are regularly fed by a scuba diver for the delight of children and adults alike.
What you may not like about this hotel:............................(Back to top)
This hotel charges a $30 A DAY of what they call "amenities fee". This is in addition to the $30 parking fee that you would be charged if you want to park a car.
Please be advised that the pool is not very big, if there is any consolation, this is a problem that many Waikiki hotels have, the only large pool in Waikiki is at the Hilton Hawaiian Village (number 12 in our Waikiki Map).
Unless you know exactly what you are going to do with a car, is better not to rent one at all, parking in Waikiki is very expensive and this hotel is no exception.
Based on your particular needs and the objective of your trip, this hotel may have other pros and cons that you should consider, call us at (808) 394-2112 for more information.

051211
IMPORTANT NOTE:............................(Back to top)
Please keep in mind that ALL Hotels have shortcomings, the trick is to find a hotel which shortcomings you do not mind.
This hotel may or may not be the best option for it's category considering your particular situation and the days that you plan to visit our islands.
Call (808) 394-2112 to talk to one of our agents and he or she will be able to find for you the best option based on your needs.