# 62 in our Waikiki map.

Hotel Name: .... Royal Grove Hotel.
Category:......... Budget. (below 1 star). (warning about star ratings!)
Address: ......... 151 Uluniu St.
General description:
What we like about this hotel:
What you may not like about this hotel: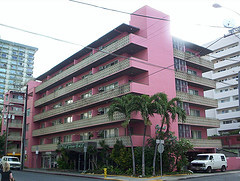 Please call Discount Hotels Hawaii at (808) 394-2112
for the best deal for a Waikiki Hotel of similar quality.
General description:............................(Back to top)
The Royal Grove is a budget Hotel that was originally built in right after WWII in 1950, it is located on the corner of Uluniu and Kuhio Avenues. It consists of 2 connected different buildings has five floors and a little over 80 rooms in it's inventory most of which are only studios with a kitchenette. It has a small lobby and small swimming pool.
This hotel is number "62" within the blue zone of our waikiki map, click here to see it's location in relation to other hotels in Waikiki.
What we like about this hotel:............................(Back to top)
The location is very central and also very close to the beach.
Contrary to other hotels of the same type and age also located in Waikiki, this hotel does have elevators.
What you may not like about this hotel:............................(Back to top)
For most people the hotel is too old. Even though it has been kept in working order, not much has been done to the property to update it other than the addition of AC units.
If you decide to stay in this property, try to request the units that are away from Kuhio Ave. to minimize noise. No unit will be totally quiet and that is a common problem for all Waikiki but the Uluniu or Prince Edwards sides of the building will be less noisy.
Rooms are fairly small and some are quite dark.
Parking is available but limited.
Based on your particular needs and the objective of your trip, this hotel may have other pros and cons that you should consider, call us at (808) 394-2112 for more information.

051211

09
IMPORTANT NOTE:............................(Back to top)
Please keep in mind that ALL Hotels have shortcomings, the trick is to find a hotel which shortcomings you do not mind.
This hotel may or may not be the best option for it's category considering your particular situation and the days that you plan to visit our islands.
Call (808) 394-2112 to talk to one of our agents and he or she will be able to find for you the best option based on your needs.