# 53 in our Waikiki map.

Hotel Name: .... OHANA East Hotel.
Category:.........

. (warning about star ratings!)
Address: ......... 150 Kaiulani Ave.
General description:
What we like about this hotel:
What you may not like about this hotel:
RESORT FEE ALERT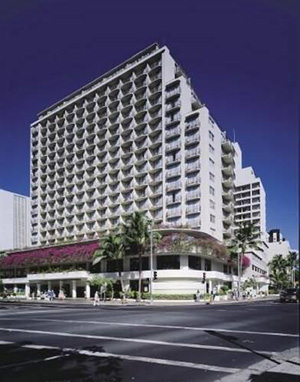 Please call Discount Hotels Hawaii at (808) 394-2112
for the best deal for a Waikiki Hotel of similar quality.
General description:............................(Back to top)
The Ohana East is located at the intersection of Kuhio and Kaiulani avenues, one of the most central corners of Waikiki. Very popular with visitors, corporate clients and locals alike, this hotel was built originally in 1971 and has undergone several renovations over the years. It has over 400 rooms most of which are hotel rooms with a few kitchenette studios and 1 bedroom units.
The common areas are adequate in size including a lobby that is on the second floor and is accessed either by escalator or elevator plus a pleasant pool area and sun-deck on the 3rd floor. Several shops, restaurants and bars are located within the property.
This hotel is number "53" within the blue zone of our waikiki map, click here to see it's location in relation to other hotels in Waikiki.
What we like about this hotel:............................(Back to top)
The area where this hotel is located is very convenient since it places the visitor within walking distance to the best parts of Waikiki without paying for the extra expense of a beach front property or a Hotel located across the street from the beach or otherwise on Kalakaua ave. The beach is only 2 minutes walk but the rate difference when you compare it with Hotels closer to the ocean is very substantial.
What you may not like about this hotel:............................(Back to top)
This hotel has a mandatory extra daily "Hospitality fee", that is not included in your room total until you check out. These fees, also known as "resort fees" or "amenities fees", are being charged in several area hotels and range from $10 to $40 extra per day.
There is a very large construction site next door to this hotel.
The high popularity of this hotel with government accounts keeps it fairly full throughout the year that in turn means that rates are sometimes higher that similar properties in the area.
This hotel is situated on one of the busiest intersections in Waikiki and noise can be a problem.
Based on your particular needs and the objective of your trip, this hotel may have other pros and cons that you should consider, call us at (808) 394-2112 for more information.

051211
IMPORTANT NOTE:............................(Back to top)
Please keep in mind that ALL Hotels have shortcomings, the trick is to find a hotel which shortcomings you do not mind.
This hotel may or may not be the best option for it's category considering your particular situation and the days that you plan to visit our islands.
Call (808) 394-2112 to talk to one of our agents and he or she will be able to find for you the best option based on your needs.