# 51 in our Waikiki map.

Hotel Name: .... Bamboo Hotel.
Category:.........


Address: ......... 2425 Kuhio Ave.
General description:
What we like about this hotel:
What you may not like about this hotel:

RESORT FEE ALERT (FOR HOTEL UNITS NOT FOR PRIVATE CONDOS)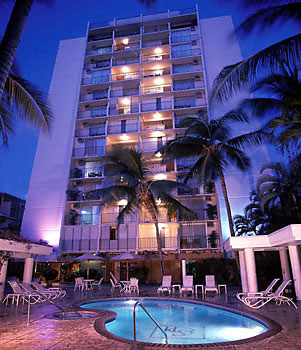 Please call Discount Hotels Hawaii at (808) 946-1216
for the best deal for this hotel.
General description:............................(Back to top)
The Bamboo hotel was originally built in 1968, it has 14 floors and a little over 90 units in the Hotel room, Studio and one bedroom categories. For many years was owned by a Japanese company that in the late 80's remodeled it and turned it into a 3 star hotel under the name of Kaulana Kai, the subsequent souring of the Japanese economy of the nineties resulted in the hotel's deterioration and eventual sale with the new owners renaming it Bamboo. There were later renovations most notably to be able to sell the units to individual owners, last one to mention was in 2009. The Bamboo is a nice 3 star boutique hotel with a pleasant pool area, a small jacuzzi, adequate size lobby and front desk.
This hotel is number "51" within the blue zone of our waikiki map, click here to see it's location in relation to other hotels in Waikiki.
What we like about this hotel:............................(Back to top)
This hotel enjoys a central location, within the blue area of our Waikiki map, and is only a couple of blocks away from the beach, the Waikiki police station and the International market Place.
All rooms have at least a refrigerator, coffee maker and microwave oven (kitchenette units also include a countertop stove but no oven).
There is a one bedroom category with full kitchen that regular oven as well (regular ovens are not common in hotels). Please do not confuse this unit called one bedroom w/full kitchen with the units called one bedroom w/kitchenette.
The pool is small but very pleasant.
What you may not like about this hotel:............................(Back to top)
The hotel side of the operation (not the private vacation rentals) has a mandatory extra daily "Hospitality fee", that is not included in your room total until you check out. These fees, also known as "resort fees" or "amenities fees", are being charged in several area hotels and range from $10 to $40 extra per day.The category called "hotel room" in this property is way too small, you may want to steer away from that category, book a Studio instead.
Many visitors traveling with kids will choose to book a one bedroom unit because it gives them a little privacy and cooking facilities. This hotel has 2 different 1 bedrooms, the 1 bdrm with full kitchen (formerly known as 1 bdrm "Ohana") and the 1 bdrm with kitchenette (formerly known as 1 bedroom "Aloha"), only the first one will provide the privacy and the cooking , the kitchenette ones are in fact a little nicer but there is only a VERY limited kitchenette and there are no beds or sofa-beds in the living room, either a King or 2 double beds are in the bedroom defeating the privacy factor of the 1 bedroom.
Parking is expensive and VERY limited but there is a lot cheaper covered public parking nearby, ask our agents when you make the reservation if you are interested.
Based on your particular needs and the objective of your trip, this hotel may have other pros and cons that you should consider, call us at (808) 946-1216 or (808) 394-2112 for more information.

051211
IMPORTANT NOTE:............................(Back to top)
Please keep in mind that ALL Hotels have shortcomings, the trick is to find a hotel which shortcomings you do not mind.
This hotel may or may not be the best option for it's category considering your particular situation and the days that you plan to visit our islands.
Call (808) 946-1216 to talk to one of our agents and he or she will be able to find for you the best option based on your needs.