# 48 in our Waikiki map.

Hotel Name: .... Hawaiian King Hotel.
Category:......... Budget. (below 1 star). (warning about star ratings!)
Address: ......... 417 Nohonani Ave.
General description:
What we like about this hotel:
What you may not like about this hotel: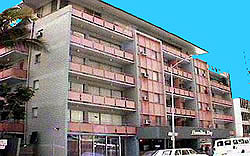 Please call Discount Hotels Hawaii at (808) 394-2112
for the best deal for a Waikiki Hotel of similar quality.
General description:............................(Back to top)
Originally built in 1959, this hotel was always operated under the same name and in the same star rating. Only 6 floors high, the Hawaiian King features Studios and one bedrooms with cooking facilities. The common areas are small including a small lobby/front desk and a small pool in the middle courtyard.
This hotel is number "48" within the red zone of our waikiki map, click here to see it's location in relation to other hotels in Waikiki.
What we like about this hotel:............................(Back to top)
The location of this building is very good because it really places you within few steps of the most central part of Waikiki as well as countless shops and restaurants.
Older constructions tend to have more spacious rooms, more contemporary budget category hotels tend to have smaller units and this hotel is no exception. with units bigger than other budget hotels in Waikiki.
What you may not like about this hotel:............................(Back to top)
For most people this place may be too old and run down.
This hotel has no parking, there is some street parking nearby and there are some private parking structures that you can use in the neighborhood but be advised that lack of parking can be an issue with this property.
Based on your particular needs and the objective of your trip, this hotel may have other pros and cons that you should consider, call us at (808) 394-2112 for more information.

051211
IMPORTANT NOTE:............................(Back to top)
Please keep in mind that ALL Hotels have shortcomings, the trick is to find a hotel which shortcomings you do not mind.
This hotel may or may not be the best option for it's category considering your particular situation and the days that you plan to visit our islands.
Call (808) 394-2112 to talk to one of our agents and he or she will be able to find for you the best option based on your needs.