# 47 in our Waikiki map.

Hotel Name: .... Ilima Hotel.
Category:.........

. (warning about star ratings!)
Address: ......... 445 Nohonani Ave.
General description:
What we like about this hotel:
What you may not like about this hotel: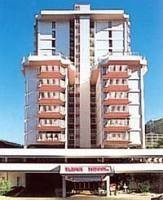 Please call Discount Hotels Hawaii at (808) 394-2112
for the best deal for a Waikiki Hotel of similar quality.
General description:............................(Back to top)
The Ilima Hotel was built in 1968. It contains 98 rooms totaling 16 floors. This is an older hotel that also has a small pool and common area. The hotel has an adequately sized lobby which makes the hotel look like a residential condo. The type of units that it has are Studios, one bedrooms, and two bedrooms, all equipped with a kitchen. Parking is available but limited.
This hotel is number "47" within the red zone of our waikiki map, click here to see it's location in relation to other hotels in Waikiki.
What we like about this hotel:............................(Back to top)
All rooms have balconies.
The rooms of the hotel are a bit more spacious and comfortable due to the floor plan which is of an older design.
The hotel is walking distance to a multitude of restaurants and shops.
It is the only hotel in Waikiki with free parking.
Front desk clerks are particularly pleasant in this hotel.
This hotel has one of the most complete kitchens for a hotel in Waikiki.
What you may not like about this hotel:............................(Back to top)
Even though it has gone through various maintenance renovations this hotel is 40 years old and it shows.
The pool is extremely small and never receives any sun (the hotel does have a sun deck but is hardly used because is away form the pool area on a high floor. This may be bad news for those visitors with children that count on the pool for some entertainment.
Although the hotel provides its visitors with an exercise room, be forewarned that it is very small.
It is overly priced for its rating.
Although it is the only hotel in Waikiki that provides some free parking, the parking space is limited and on a first come first serve basis.
Be advised that he two bedroom units are actually a divided one bedroom, therefore the bedrooms are very small (just enough space for one double bed in each bedroom) and it only has one bathroom.
Based on your particular needs and the objective of your trip, this hotel may have other pros and cons that you should consider, call us at (808) 394-2112 for more information.

051211
IMPORTANT NOTE:............................(Back to top)
Please keep in mind that ALL Hotels have shortcomings, the trick is to find a hotel which shortcomings you do not mind.
This hotel may or may not be the best option for it's category considering your particular situation and the days that you plan to visit our islands.
Call (808) 394-2112 to talk to one of our agents and he or she will be able to find for you the best option based on your needs.