# 35 in our Waikiki map.

Hotel Name: .... Hokele Suites Hotel.
Category:.........

. (warning about star ratings!)
Address: ......... 412 Lewers Street.
General description:
What we like about this hotel:
What you may not like about this hotel: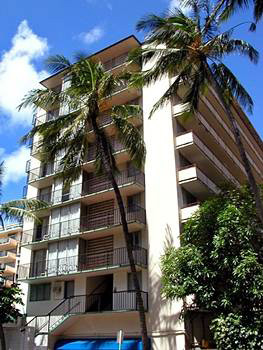 Please call Discount Hotels Hawaii at (808) 946-1216
for the best deal for a Waikiki Hotel of similar quality.
General description:............................(Back to top)
The Hokele Suites is and older hotel located in the center of Waikiki. It has all apartment type units with full kitchens in the Studio, 1 bedroom and 2 bedroom categories. It consists of a high rise plus 3 other four story buildings totaling 115 units that were built in different times during the 60's.
The common areas are adequate but not big, with a small front desk and swimming pool and are easily accessible.
This hotel is number "35" within the red zone of our waikiki map, click here to see it's location in relation to other hotels in Waikiki.
What we like about this hotel:............................(Back to top)
One star hotels tend to have very small rooms but this hotel, because is an older design, has regular size studios.
All units have a full kitchen with stove with oven, 2 burners, microwave oven, coffee maker and refrigerator.
The hotel has just finished replacing all beds, sofa beds and kitchen appliances in the units.
If you look at our Waikiki map, this hotel is located within the very central red area of the map and is only 5 minutes walk to the beach and 7 minutes walk to the international market place.
This is one of the few remaining Waikiki Hotels that still has some smoking rooms set aside for those that request them, keep in mind that there are few of these rooms to start with and their assignment is on availability only.
What you may not like about this hotel:............................(Back to top)
The pool (like most pools in Waikiki) is not very big.
Parking is available but very limited, please note that all hotels in Waikiki charge for parking and this hotel is no exception.
This hotel has not seen an extensive renovation in quite some time but the owners have kept it in good working condition, case in point is the latest replacement of all beds, sofa beds and kitchen appliances as well as all corridor carpets.
Based on your particular needs and the objective of your trip, this hotel may have other pros and cons that you should consider, call us at (808) 946-1216 or (808) 394-2112 for more information.

051211
IMPORTANT NOTE:............................(Back to top)
Please keep in mind that ALL Hotels have shortcomings, the trick is to find a hotel which shortcomings you do not mind.
This hotel may or may not be the best option for it's category considering your particular situation and the days that you plan to visit our islands.
Call (808) 946-1216 or (808) 394-2112 to talk to one of our agents and he or she will be able to find for you the best option based on your needs.