# 21 in our Waikiki map.

Hotel Name: .... Modern Honolulu Hotel.
Category:.........

(warning about star ratings!)
Address: .........1775 Ala Moana Blvd.
General description:
What we like about this hotel:
What you may not like about this hotel: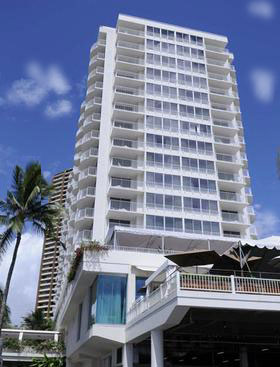 .
General description:............................(Back to top)
Formerly known as Waikiki Edition, this property was originally built to be a part of the iconic Ilikai hotel next door more than 30 years ago. It functioned as a sort of Ilikai annex for a few decades until the Hotel operation went through some finantial difficulties that ultimately resulted in the sale of the building to investors. There was a great deal of money invested in this property to improve it and remaind closed during the renovation for a long period of time. It finally opened as Waikiki Edition and was managed by the Marriott Hotels corporation with a contract for 30 years. The property did not perform nearly as well as the property owners expected and since then it has changed management serveral times.
This hotel is number "21" within the green zone of our waikiki map, click here to see it's location in relation to other hotels in Waikiki.
What we like about this hotel:............................(Back to top)
There was a lot of money invested in this property and both common areas and rooms are pleasant.
This Hotel is in very close proximity to the Honolulu Convention Center which makes it a good choice for travelers attending events there.
It is also within walking distance to the Ala Moana Shopping Center, which makes it a good choice for those shopping oriented visitors since the Ala Moana Shopping Center is the largest one in the State of Hawaii.
It has very easy access in and out of Waikiki which makes it a good choice for people coming for work who do not need to be "in the middle" of Waikiki .
The best part of the Waikiki Beach is in front of the Hilton Hawaiian Village which is within walking distance to this Hotel (about 12 minute walk)
This area is also the closest to the Ala Moana Beach Park (about 10 to 20 minutes walk) . If you are planning to stay within Honolulu to go to the beach, Ala Moana Beach is one of the nicest ones, has free parking, 2 food stands, rest rooms, showers and due to the shape of the coral reef in the area, it has no waves which makes it especially good for children, (nevertheless adult supervision is always advised since the water eventually does get deep!). Keep in mind however that this beach is very popular with the local population therefore on Saturdays and Sundays it can be quite crowded.
What you may not like about this hotel:............................(Back to top)
Those travelers that are looking for 3+ star rating hotels tend to want to be closer to the beach, this hotel is close to the water but be warned that what you have close by is a not very clean marina and not a beach, the closest beach is a good 12 minute walk from this property.

The rates at this hotel tend to be higher than other Waikiki hotels of the same quality, specially when you consider how far it is from the center.
As the Modern Hotel is at the beginning of Waikiki, the hotel is approximately 15 to 20 minutes walking distance from the centralized area. In order to experience the awe and splendor of the city of Waikiki one would have to travel either by foot, taxi or the city bus to access the main attractions, shops and eateries.


211
IMPORTANT NOTE:............................(Back to top)
Please keep in mind that ALL Hotels have shortcomings, the trick is to find a hotel which shortcomings you do not mind.