# 16 in our Waikiki map.

Hotel Name: .... Waikiki Gateway Hotel.
Category:.........

(warning about star ratings!)
Address: ......... 2070 Kalakaua Ave.
General description:
What we like about this hotel:
What you may not like about this hotel:
RESORT FEE ALERT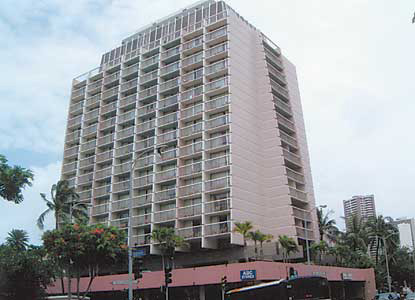 Please call Discount Hotels Hawaii at (808) 394-2112
for the best deal for a Waikiki Hotel of similar quality.
General description:............................(Back to top)
Built in the Waikiki building boom time of 1970, this 17 floor pyramid shaped hotel has a little over 160 rooms and is the only construction built on a small city block situated right where the 2 main Waikiki avenues Kalakaua and Kuhio fork out. This property has 3 different entrances, one on each side of the triangular shaped city block and all of them have stairs to access the lobby area, the lobby size is modern, small but adequate for the hotel category.
Some of the amenities are unusual for the hotel star rating as they are normally found in higher end hotels such as a Business Center, Conference room, hospitality room, ATM machine and free high speed internet in the business center (guest rooms' internet available for a fee).
This hotel has been recently sold and underwent some maintenance type renovation to freshen up it's image. Rooms are regular size for Waikiki and most have a balcony.
This hotel is number "16" within the white zone of our Waikiki map, click here to see it's location in relation to other hotels in Waikiki.
What we like about this hotel:............................(Back to top)
Most rooms have a small balcony.
The property has been refreshed lately, nothing too radical but they spruced it up a little.
What you may not like about this hotel:............................(Back to top)
This hotel has a mandatory extra daily "Convenience fee", that is not included in your room total until you check out. These fees, also known as "resort fees" or "amenities fees", are being charged in several area hotels and range from $10 to $40 extra per day.
There is no escaping the NOISE. The building was built on a very small city block and it is flanked on both sides by the 2 largest avenues that cross Waikiki.
Right next to the hotel there is a bus tour stop that services the whole area with large tour and transportation buses waiting with idling engines at all hours.
Internet access is charged extra.
Internet in the lobby area is Wi-Fi but in the guests rooms is provided via Ethernet cable so it can not be used with a tablet or smart phone and only one device can be connected at any given time.
There is a room category called "Standard Single" that is a little too small for most people.
The building has stairs in every entrance can be a problem for those with mobility problems even though there is an access ramp on the Olohana Ave. entrance.
There is a pool with a waterfall and a sun deck but it is VERY small.
Based on your particular needs and the objective of your trip, this hotel may have other pros and cons that you should consider, call us at (808) 394-2112 for more information.

121112
IMPORTANT NOTE:............................(Back to top)
Please keep in mind that ALL Hotels have shortcomings, the trick is to find a hotel which shortcomings you do not mind.
This hotel may or may not be the best option for it's category considering your particular situation and the days that you plan to visit our islands.
Call (808) 394-2112 to talk to one of our agents and he or she will be able to find for you the best option based on your needs.