# 8 in our Waikiki map.


Hotel Name: .... DoubleTree Alana Hotel.
Category:.........

. (warning about star ratings!)
Address: ......... 1956 Ala Moana Blvd.
General description:
What we like about this hotel:
What you may not like about this hotel: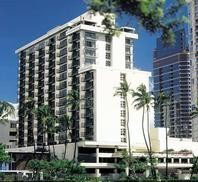 Please call Discount Hotels Hawaii at (808) 394-2112
for the best deal for a Waikiki Hotel of similar quality.
General description:............................(Back to top)
According to the City records, this building was erected in 1960. It ran as a Hotel under different names until it was renamed Alana Waikiki and over the years underwent several renovations, some of them major even though no major renovation was done recently.
It has a total of 19 floors, the common areas are acceptable in size with a small entrance and a lobby on the second floor via escalator. It features a pool that is not very big but that is a problem that most Waikiki Hotels have. It has restaurant and a small fitness center.
This hotel is number "8" within the green zone of our waikiki map, click here to see it's location in relation to other hotels in Waikiki.
What we like about this hotel:............................(Back to top)
This is a Name brand that most travelers can recognize and the fact that it belongs to the Hilton Family of Hotels gives most people peace of mind.
This Hotel is in very close proximity to the Honolulu Convention Center which makes it a good choice for travelers attending events there.
It is also within walking distance to the Ala Moana Shopping Center, which makes it a good choice for those shopping oriented visitors since the Ala Moana Shopping Center is the largest one in the State of Hawaii.
Has very easy access in and out of Waikiki which makes it a good choice for people coming for work that do not need to be "in the middle" of Waikiki .
The best part of the Waikiki Beach is in front of the Hilton Hawaiian Village which is within walking distance to this Hotel.
This area is also the closest to the Ala Moana Beach Park (about 10 to 20 minutes walk) . If you are planning to stay within Honolulu to go to the beach, Ala Moana Beach is one of the nicest ones, has free parking, 2 food stands, rest rooms, showers and due to the shape of the coral reef in the area, it has no waves which makes it especially good for children, (nevertheless adult supervision is always advised since the water eventually does get deep!). Keep in mind however that this beach is very popular with the local population therefore on Saturdays and Sundays it can be quite crowded.
What you may not like about this hotel:............................(Back to top)
Those accustomed to the experience of staying at the Double Tree Hotels, either on the United States' mainland or abroad, may find that its Hawaii establishment does not live to the expected standards.
Because this Hotel has a recognizable name brand, prices tend to be much higher than other Waikiki hotels of the same quality.
This hotel even though is being kept in good shape, has not seen a major renovation for some time.
The most common complaint from those staying there is that they wished the hotel was closer to the Ocean. We really do not consider this hotel to be far from the beach (about 15 minutes walk) but it seems that the type of clientele that is willing to pay the kind of rates that this hotel normally has, expects the facility to be closer to the ocean.
As the Double Tree Alana Hotel is at the beginning of Waikiki, the hotel is approximately 20 minutes walking distance from the centralized area. In order to experience the awe and splendor of the city of Waikiki one would have to travel either by foot, taxi or the city bus to access the main attractions, shops and eateries.
Based on your particular needs and the objective of your trip, this hotel may have other pros and cons that you should consider, call us at (808) 394-2112 for more information.

051211
IMPORTANT NOTE:............................(Back to top)
Please keep in mind that ALL Hotels have shortcomings, the trick is to find a hotel which shortcomings you do not mind.
This hotel may or may not be the best option for it's category considering your particular situation and the days that you plan to visit our islands.
Call (808) 394-2112 to talk to one of our agents and he or she will be able to find for you the best option based on your needs.