# 2 in our Waikiki map.

Hotel Name: .... Prince Waikiki Hotel
Category:.........

. (warning about star ratings!)
Address: ......... 100 Holomoana St.
General description:
What we like about this hotel:
What you may not like about this hotel: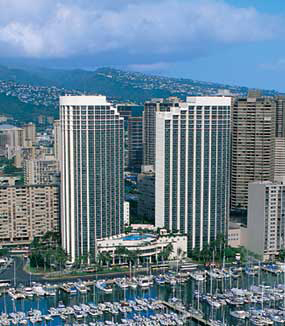 .
General description:............................(Back to top)
Built in 1989 this hotel has 2 towers with a common area in the middle. Even though it is about 30 years old, this hotel is being kept in good condition and service is very good. Parking is available for an additional fee like with most hotels in the area and all rooms have some view, either of the mountains or the ocean. Common areas are spacious and amenities are adequate and in line with the star rating.
This hotel is number "2" within the green zone of our waikiki map, click here to see it's location in relation to other hotels in Waikiki.
What we like about this hotel:............................(Back to top)
Due to changes in the law aimed at decreasing construction density, Waikiki does not have too many new buildings and this is one of the newest ones.
This Hotel has great golf packages since it owns a golf course in a different part of the island.
This Hotel is in very close proximity to the Honolulu Convention Center which makes it a good choice for travelers attending events there.
It is also within walking distance to the Ala Moana Shopping Center, which makes it a good choice for those shopping oriented visitors since the Ala Moana Shopping Center is the largest one in the State of Hawaii.
It has very easy access in and out of Waikiki which makes it a good choice for people coming for work who do not need to be "in the middle" of Waikiki .
The best part of the Waikiki Beach is in front of the Hilton Hawaiian Village which is within walking distance to this Hotel (about 12 minute walk), click here for a satellite picture that will help you figure out the best parts of Waikiki beach.
This area is also the closest to the Ala Moana Beach Park (about 10 to 20 minutes walk) . If you are planning to stay within Honolulu to go to the beach, Ala Moana Beach is one of the nicest ones, has free parking, 2 food stands, rest rooms, showers and due to the shape of the coral reef in the area, it has no waves which makes it especially good for children, (nevertheless adult supervision is always advised since the water eventually does get deep!). Keep in mind however that this beach is very popular with the local population therefore on Saturdays and Sundays it can be quite crowded.
What you may not like about this hotel:............................(Back to top)
Depending on the type of reservation you may be charged a Resort fee of a little over $30 a day. The good news is that it includes self-parking privileges for one car.
Those travelers that are looking for 4 star rating hotels tend to want to be closer to the beach, this hotel is close to the water but be warned that what you have close by is a not very clean marina and not a beach, the closest beach is a good 12 minute walk from this property.
As the Hawaii Prince Hotel is at the beginning of Waikiki, the hotel is approximately 15 to 20 minutes walking distance from the centralized area. In order to experience the awe and splendor of the city of Waikiki one would have to travel either by foot, taxi or the city bus to access the main attractions, shops and eateries.

1211
IMPORTANT NOTE:............................(Back to top)
Please keep in mind that ALL Hotels have shortcomings, the trick is to find a hotel which shortcomings you do not mind.