# 1 in our Waikiki map.

Property Name: .... Ala Moana Condos (click here for Ala Moana Hotel)
Category(*):.........PREMIUM
Address: ......... 410 Atkinson Drive.
General description:
What we like about this property:
What you may not like about this property: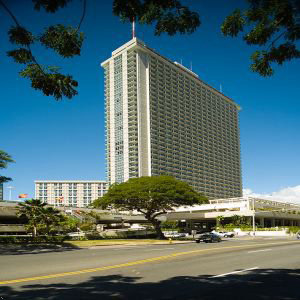 Please call Discount Hotels Hawaii at (808) 394-2112
for the best deal for a Waikiki Hotel of similar quality.
General description:............................(Back to top)
Built in 1970 with 35 floors and over 1000 rooms, the Ala Moana property started as a Hotel owned by a single entity. It went through various ownerships and management/marketing companies but over the years it kept the same name. With ample common areas, lobby and several restaurants and shops to choose from, the Ala Moana has housed scores of visitors and locals alike.

In 2006 the hotel underwent a deep transformation when it was totally renovated and each unit sold as a condominium. The majority of the new individual owners decided to participate in what is called a "hotel pool" that operates just as a hotel but the units are in fact owned by individuals.

There are some units that are not part of the "hotel pool", whose owners either decided to live in the building or rent them separately, that is how you will be able to find Ala Moana condos rented as condo or vacation rentals. Be aware that if you book a condo unit. Like everywhere else, parking is available for guests but will cost you a daily fee.

This property is number "1" within the green zone of our waikiki map, click

here

to see it's location in relation to other hotels in Waikiki.
What we like about this hotel:............................(Back to top)
The "noise" factor is fairly low and that is a plus when you are planning to stay more than a few days.
The property has spacious common areas, a pool, fitness center, restaurants and shops.
It is located behind the largest Shopping center in the State of Hawaii, the Ala Moana Shopping center, so if shopping is your goal, this is the right place.
Even though it is right next to Waikiki, It is technically outside the area and this makes it very popular with those travelers coming to Honolulu for business or work, since there is a little less traffic to deal with than for a property within Waikiki.
For many people "in the know", Ala Moana beach is the best beach that the City of Honolulu has to offer with it's extra calm water and a perfect park setting in the back, the Ala Moana is the closest Hotel to this beach within a few minutes walk from the entrance.
What you may not like about this hotel:............................(Back to top)
On top of what you will pay for rental and cleaning fees, there is a mandatory one time front desk charge when you arrive (last time we checked it was under $50) plus an also mandatory daily Resort Fee" charge (last time we checked was under $15)
This building is technically outside Waikiki. The area needs to improve a lot to be acceptable for a long vacation. There are several bars and lounges towards the back of the property with dubious clientele. If you are looking for a condo for a vacation, almost anywhere inside Waikiki would be a nicer area to consider.
There are 2 different towers in this hotel, the Waikiki Tower and the Mauka Tower, the latter one is shorter than the former and has large windows with balcony railings but not a balcony that you can step out to, the rooms at the Mauka Tower are also smaller. If you have a choice, choose the Waikiki Tower.
Cooking facilities in these units may not be very sophisticated. Subsequent owners may have added some appliances since the time they were first sold but the original units only came with a tiny refrigerator, a coffee maker and a microwave oven.
Based on your particular needs and the objective of your trip, this hotel may have other pros and cons that you should consider, call us at (808) 394-2112 for more information.

051211
IMPORTANT NOTE:............................(Back to top)
Please keep in mind that ALL Hotels have shortcomings, the trick is to find a hotel which shortcomings you do not mind.
This hotel may or may not be the best option for it's category considering your particular situation and the days that you plan to visit our islands.
Call (808) 394-2112 to talk to one of our agents and he or she will be able to find for you the best option based on your needs.